Dining tables do not belong to dedicated dining rooms only. They are necessary for every home and the outdoor space since they gather a whole family for a cozy get-together in the San Francisco Bay Area, California.
The advantages of solid wood furniture in California
Sustainability & Durability
Most types of solid wood are incredibly durable and designed to last for generations. Especially for the furniture made from hardwood which requires minimal maintenance and can withstand the wear and tear of intense daily usage. As the wood ages, it will add to the character of that particular piece of wooden furniture.
Due to the high durability of solid wood furniture can be easily repaired and restored to its brand new condition. Each type of wood has its very unique set of properties and characteristics including structure and color which can add different degrees of warmth and enhance the beauty of your home.
Timeless Look of Solid Wood Furniture
Wood is one of the most commonly used materials in the world to make home furniture. Unlike other materials, natural solid wood provides a classic and timeless look for your home or the outdoor area. This look and feel will always be in style. Natural wood with its fascinating grains and patterns also creates a natural and welcoming atmosphere inside and outside your home.
Versatility and
California-based design and wood manufacturing studio Maxiwoods creates items of hand-crafted custom furniture – all luxury pieces used in daily life in the San Francisco Bay Area can be highly customized to the owner's taste and practical usage.
Maxiwoods works on projects with meaningful designs and sustainably sourced natural materials that are accessible in California. The breadth and depth of our approach and the pure appeal of our creations are determining factors in Maxixoods' choice. The sizes of homes in California greatly differ, so that the versatility of custom-made furniture helps you take advantage of any space you own or rent.
And of course, natural wood tables and other luxury furniture pieces made of natural solid wood look marvelous in both indoor and outdoor settings.
How to protect your solid wood furniture in the San Francisco Bay Area
Protect from humidity
You can maximize the longevity and beauty of your solid wood furniture, including dining and coffee tables making it last for generations by simple maintenance things done regularly. So, what are the proper care routines for hardwood furniture in the San Francisco Bay Area? Let's explore our tips helping you preserve the life of your furniture in your California home.
One of the biggest factors that can affect solid wood furniture in the San Francisco Bay Area is humidity.
Wood is a natural material and will respond to its environment. Solid wood tends to expand in a humid climate and contract in a dry climate. Some of this flexing is expected but left unchecked it can cause permanent damage to the piece. Be aware of the humidity in the San Francisco Bay Area and utilize air conditioning and humidifiers to maintain consistent humidity in your home.
Humidity should be maintained at about 35% to 45%. We recommend keeping a hygrometer to measure the humidity in your home. Be careful about your furniture's proximity to heating and cooling vents.
Protect from summer heat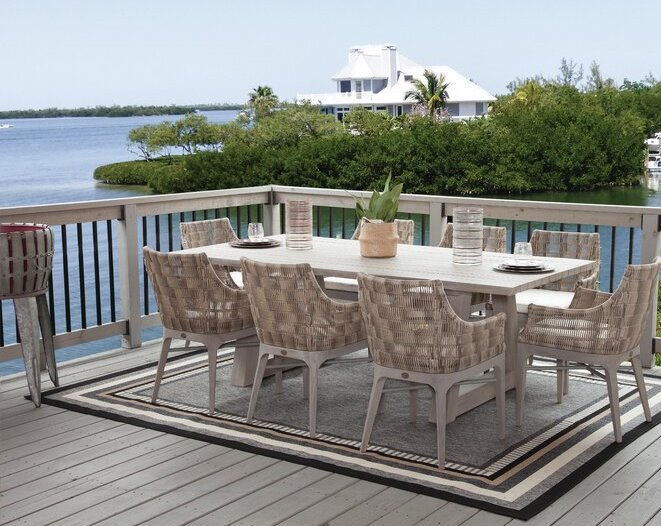 Although the weather in the San Francisco Bay Area can be unpredictable: sunny one moment, foggy and freezing the next, it is more relatively warm and sunny in California than in other parts of the US.
Be aware, that heat can cause the finish to lift off the solid wood surface, causing a foggy white spot. Make sure to prolong the lifespan and protect your wooden furniture, especially your outdoor tables, from the changing weather by investing in furniture covers. Your outdoor dining table will keep its original sheen and charm, looking always new
Protect your valuable furniture from damage
A good rule of thumb is to change the placement of your valuable dining table according to climatic conditions. For instance, if harsh sun rays are directly falling on your indoor or outdoor dining table made of solid wood, shift it where there is ample shade far enough from uncovered windows, vents, or fireplaces to avoid the risk of damaging and fading the solid wood.
If you have an outdoor hardwood dinging table, of of the easiest and simplest things to do is mild scrubbing and rinsing at the start and finish of each season.
Dust and Keep Your Solid Wood Furniture Clean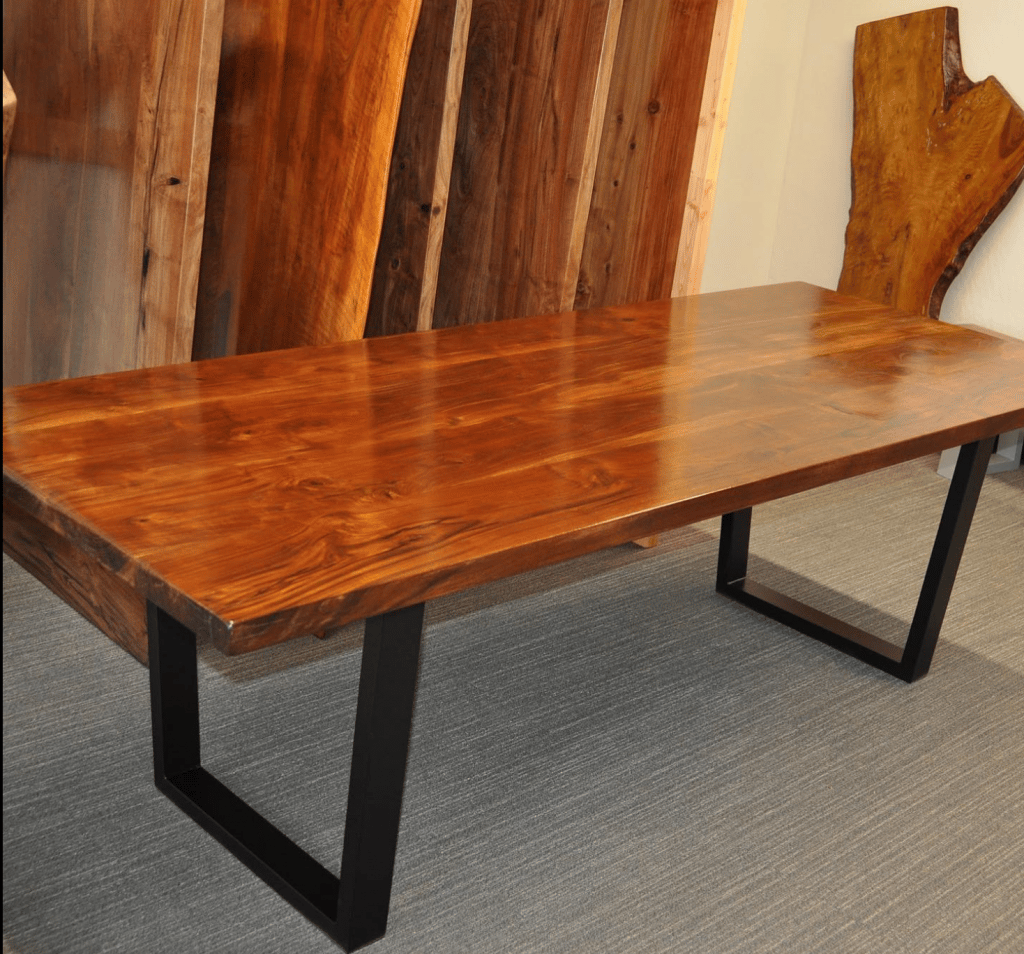 Every living thing needs water to survive. Solid wood furniture, especially dining tables which are used frequently requires more attention than dusting them once in a while. Use special cleaning products designed for use on wood, they will form a protective layer on the hardwood, but make sure not to use too much product.
For everyday cleaning, we recommend you just wipe your table with a microfibre cloth and remove unwanted residue from meals, decorations, or dining activities.
Protect your dining table from cats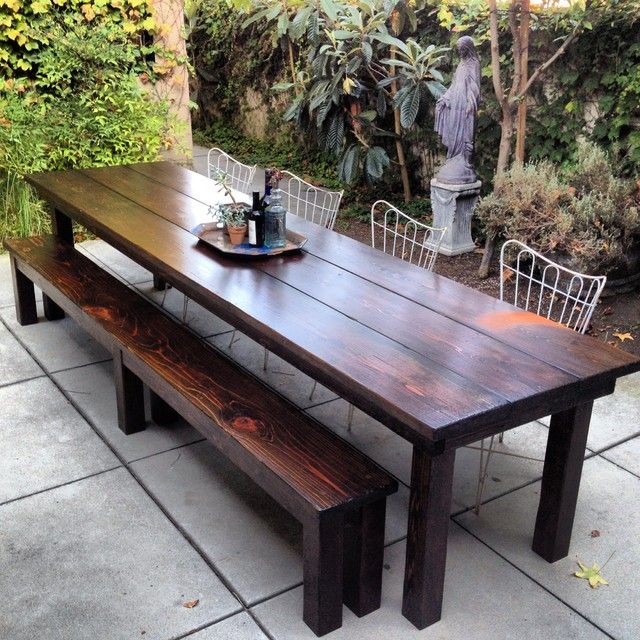 Cats love to scratch any wood as it helps them to keep their claws sharp and healthy. Your cat like most cats has an aversion to citrus smells. Choose a citrus-scented detergent or table polish can be an effective way to deter your cat from your valuable dining table. Just make sure to keep your cat away from the dining table until it's fully dried. For everyday use, you can sprinkle the surface of your table with baking soda with a few lemon juice drops to freshen it up and keep your cat's scratching instincts under control.
Treat your solid wood furniture with love
Make sure you always use coasters when setting glasses, mugs, or plates on solid wood tables, and never place hot food directly on the wood surface without the protection of a trivet or potholder. Add decorative placemats or use a tablecloth to protect your precious solid wood dining table from food and drink spills and mechanic damage.
Custom Solid Wood Furniture Care: Wrap Up
Taking proper care of your solid wood furniture, especially such frequently used pieces like dining tables is not hard or even that time-consuming as you might have thought.
The reward for your regular caring efforts will be a California-style home filled with beautiful solid wood furniture that looks and feels as good as the day you bought it from Maxiwoods — now and for years and generations to come.
Explore Maxiwoods designs for the home and beyond. We can customize any of our handmade furniture using only natural materials – shop online, view our blog, or visit our showroom.
What Clients Are Saying on Google Reviews
Love this shop! I found them on google and decided to stop by. The owner Vlad was there and helped me learn the different types of wood they use and its specs. I was in love with the black walnut table and decided to get it. I highly recommend them. If you don' find what you love they take custom orders. Vlad is great! thank you

Budiman Gunawan
This table is absolutely GORGEOUS!
The beautiful handcrafted table looks fantastic in my room.
Thank you so many guys, I Couldn't be happier.

Osama Jabbar
Excellent company. Needed a new dining room table for my new home. I wanted something beyond what you can buy in RH or pottery barn. I wanted something with character and would stand the test of time and they did not fail to provide just that. Vlad worked with me from beginning to end and the table came out great! This is something I hope to have my whole life. Highly recommend! Robert Johnson
Found them on craigslist with good selection of tables. We were needing an 8 foot live edge table. I stopped by sometime ago and as surprised with great selection of amazing tables. I ordered mine and am absolutely happy with my table. It turned out to be even nicer than I thought.
I highly recommend this company. Thank you for outstanding customer service!

Menachem Donnebaum
I purchased amazing river epoxy table and i am extremely happy with outcome. The whole room looks amazing with this masterpiece dining table made of black walnut natural wood. The price was great and I can't thank enough the team Maxiwoods.com for their excellent service. Verry happy customer !!!

Benjamin Margulies
We ordered adjustable desk from Maxiwoods. Vlad made it pretty quickly. The person I dealt with Max is a very nice guys. It was a pleasure doing business with him. My desk was made of black walnut wood. They delivered it in a week , promised 2 weeks. I highly recommend using them if you wish to get your product for less and still very good quality.

Levi Bruckenstein