Aesthetics, design, use, cost, and material preference all influence the choice of solid wood used for home tables, whether it is a dining or a coffee table. The design of a table or the architecture of a space makes a difference. The use of hardwood adds a touch of class, and hardwoods are generally stronger than softwoods.
Solid wood furniture can be made from a range of solid wood types and materials, but it's hard to beat natural wood for warmth, beauty, and durability. When using wood for home or office furniture, especially dining tables or conference tables, it's important to choose durable, damage-resistant wood. So which wood should you choose for your home or office table in California? Here's a look at some of the best and beautiful natural woods available.
Solid wood has a higher density than softwood. It receives its electricity from deciduous forest trees that grow slowly. The most popular wood types used in high-quality wooden furniture are hardwoods. Here are the most common hardwoods used in furniture production:
Walnut
Oak
Teak
Maple
Mahogany.
Walnut Wood Characteristics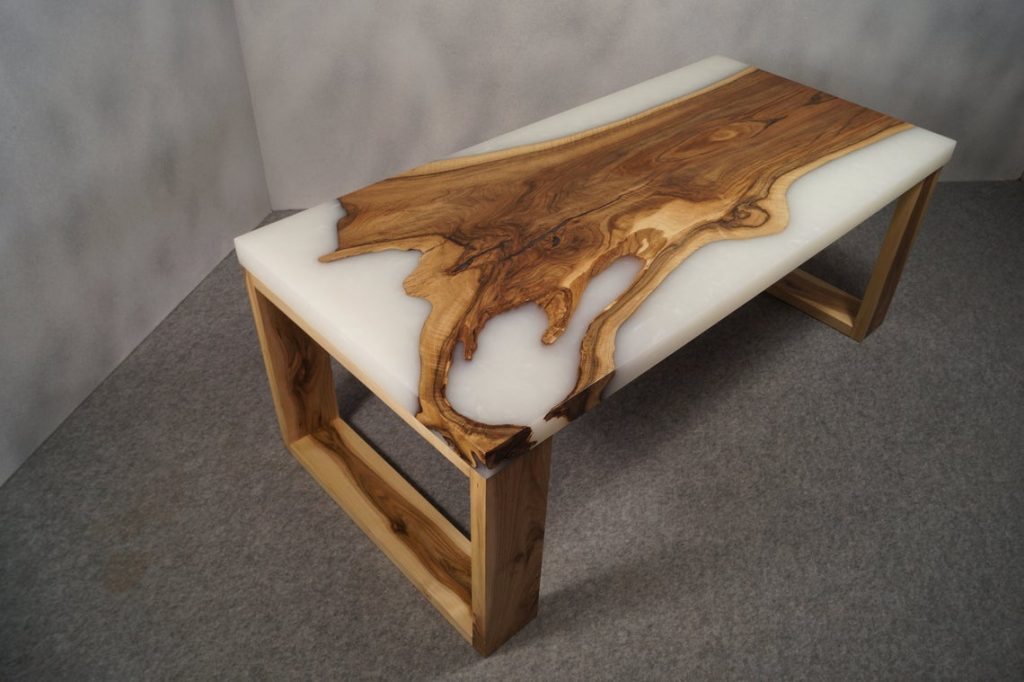 Walnut is a beautiful, sturdy, heavy, resilient, and long-lasting solid wood type, which color may range from a deep brown to a light coffee brown. Black Walnut is a very popular and easy-to-find wood, that provides a great choice for any wood craftsmanship ideas.
It is easy to carve and retains its shape for a long time, suffering very little shrinkage, and generally susceptible to insects. This makes wood ideal for impressive and elegant home and office furniture that shows exceptional craftsmanship. The walnut wood is perfect for long-term investments into furniture that will be passed down through the generations.
Consider aspects such as your budget and the intended usage of the walnut wood when making your selection. Best of luck with your purchases!
Types of Walnut Wood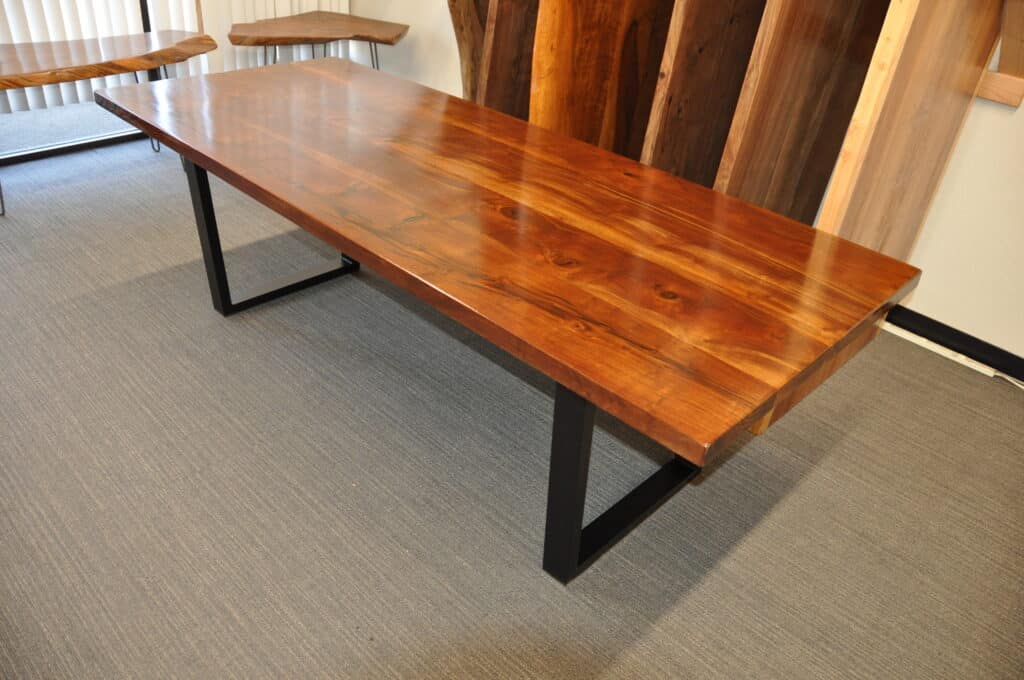 1. English Walnut Wood
2. Black Walnut Wood
3. Claro Walnut Wood
4. White Walnut Wood
5. Bastogne Walnut
6. Peruvian Walnut Wood
Maple Wood Characteristics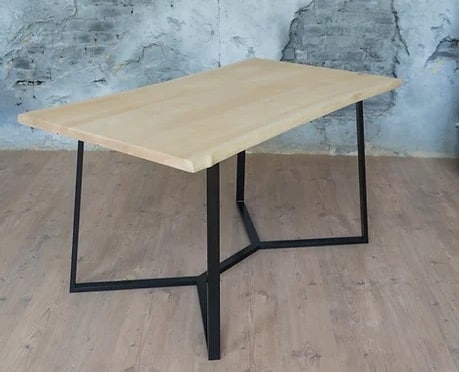 Maple is one of the most durable, strong, and attractive types of wood used for furniture making. It's commonly used for producing high-end items like dressers and dining tables since it can well withstand wear and tear. Other types of hardwoods are normally more expensive than maple, which makes them a perfect choice for young families.
The Great Lakes region in the US is home to the maple tree. Its color ranges from cream to reddish-brown, and it is very resistant to dark stains. It has a white tone with reddish-brown hues from pitch flecks and mineral streaks, though the color will darken slightly with age. Mineral streaks are brought out more by stains, so you'll see them more often and they'll be darker in stained pieces.
As a result, maple wood can be dyed to look like more expensive woods such as mahogany. Maple wood has a beautiful, straight grain with occasional fiddle back or bird's-eye patterns. Hard maple is often lighter in color, and soft maple is slightly darker.
Maple wood is extremely durable, attractive, and takes dyes well. Maple is popular among woodworkers and furniture enthusiasts because of its light, creamy hue, smooth grain pattern, and excellent endurance.
Even though there are dozens of types of maple trees around the world, the Hard Maple is the most popular among American woodworkers.
While there are many different types of maple, almost all of them produce beautiful furniture, are quite sturdy, and wear well. Because maple is non-toxic, it is frequently used to produce kitchen cutting boards. There are numerous grain patterns to choose from depending on the type of maple you choose.
Mahogany Wood Characteristics
Mahogany is a long-lasting hardwood that is frequently utilized in high-end, sophisticated furniture for your home and office. The grain of the mahogany wood is fine and straight, which makes the furniture pieces beautiful and elegant. Mahogany is typically produced in huge boards due to the size of the trees. As a result, it's ideal for furniture that serves as a focal point of your house or office. Mahogany has a classic appearance and brings warmth and elegance to any space. If properly cared for, mahogany solid wood furniture can survive for decades.
Mahogany is native to Mexico, Central America, and South America, although it is also grown in the tropics and Africa. However, South American mahogany is less popular than African mahogany. Antique furniture, on the other hand, is frequently crafted of mahogany from South America. Its color ranges from delicate pink to deep reddish-brown hues.
Mahogany is a gorgeous wood and one of the most traditional timbers used in exquisite furniture making. Even though it is lighter in weight than some of the other wood varieties, it possesses the strength of oak. Even though we think of mahogany as a reddish-brown color, there are lighter shades of wood. Genuine mahogany comes from Latin America and is getting increasingly difficult to come by. As a result, it could be costly.
Oak Wood Characteristics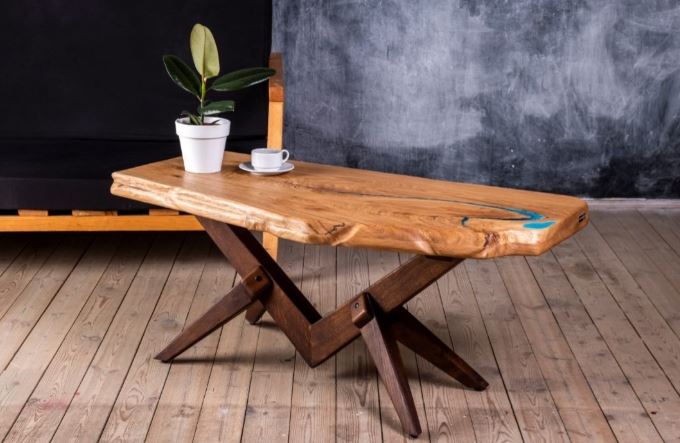 Oak is a long-lasting and sturdy type of solid wood. The oakwood is particularly dense due to the trees' sluggish growth, which adds to its quality. The oak wood can be finished in a variety of ways. As a result, it works well with both modern and traditional furniture, making it a great choice for handcrafted furniture.
The majority of oak slabs are produced in the eastern and central United States. Oak is used in many antique furniture items in the United States. With proper care, oak furniture may last for decades and you can pass it through generations. The oak wood grain is swirling or striped and the color ranges from coffee& milk light brown to pinkish-red. If well-treated, your oak furniture will be absolutely scratch, damage, and stain-resistant.
Oak is a tough wood that is commonly used in kitchen and living room furniture. While it is attractive, it fades a little over time. Red oak, on the other hand, is porous and has a darker color. Oakwood is also relatively affordable and attractive, making it a good furniture material.
Cherry Wood Characteristics
The grain of cherry wood is recognized for being exceedingly straight and homogeneous. The wood polishes beautifully and has a lovely finished appearance. Cherry, which is very famous for its usage in antique furniture, can last for centuries if properly cared for. Craftsmen value it for its perfect qualities and natural beauty. Cherry wood furniture is frequently an investment that pays off in the long run.
Cherry is a fruit tree that can be found in the eastern United States. Its characteristic color ranges from pinkish-brown to deep red, with a straight grain and some rippling. Cherry, like most wood furniture, improves in appearance with age. Cherry is the greatest wood for long-lasting furniture items that will be passed down through generations.
Cherry wood darkens over time, giving it a highly rich appearance as it ages. This is one of the wood's most intriguing properties. While most people pick cherry wood for its color, it also has several other advantages. Because cherry is quite strong, it can withstand scratches and dents. It has an equal grain and is non-toxic.
It is popular among fine furniture and cabinetry producers because of its naturally rich brown color. The grain is similar to Cherry and is pretty straightforward. Color variation is common in this popular domestic wood species, which adds to its appeal. Hardness, strength, stability, heavyweight, durability, and shock resistance are all qualities associated with it. Walnut trees are one of the more expensive timber species due to their slow growth rate. A considerable area of the eastern and central United States is covered in black walnut trees.
Always Think about Durability
The colors of solid wood and finishes can change over time because different wood species and grade stains react differently to sun exposure and can yellow, darken, or brighten with time. It is fairly normal for tables to turn a completely different color after years of exposure to natural sunlight. Consider the quantity of sunshine your room receives when choosing wood for your table, as well as the durability, materials, and manufacturer to see if the quality will last.
Maxiwoods Offers Handcrafted Solid Wood Tables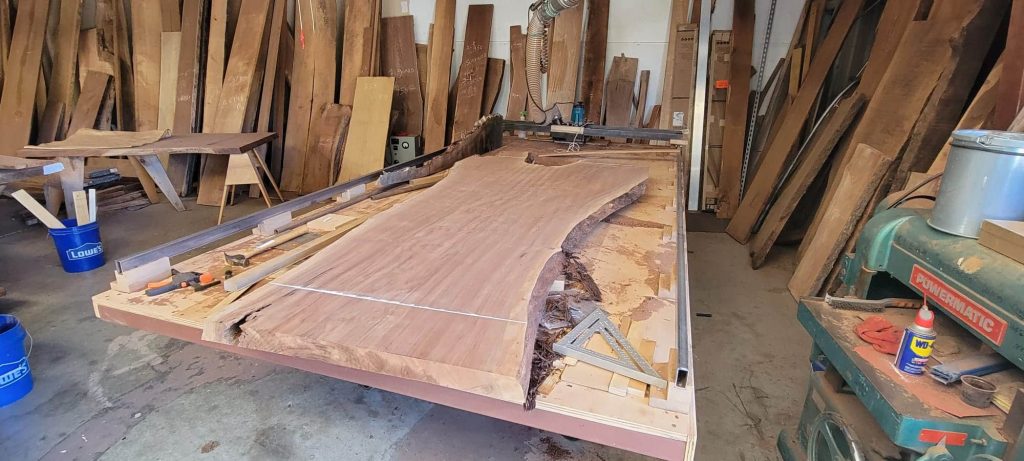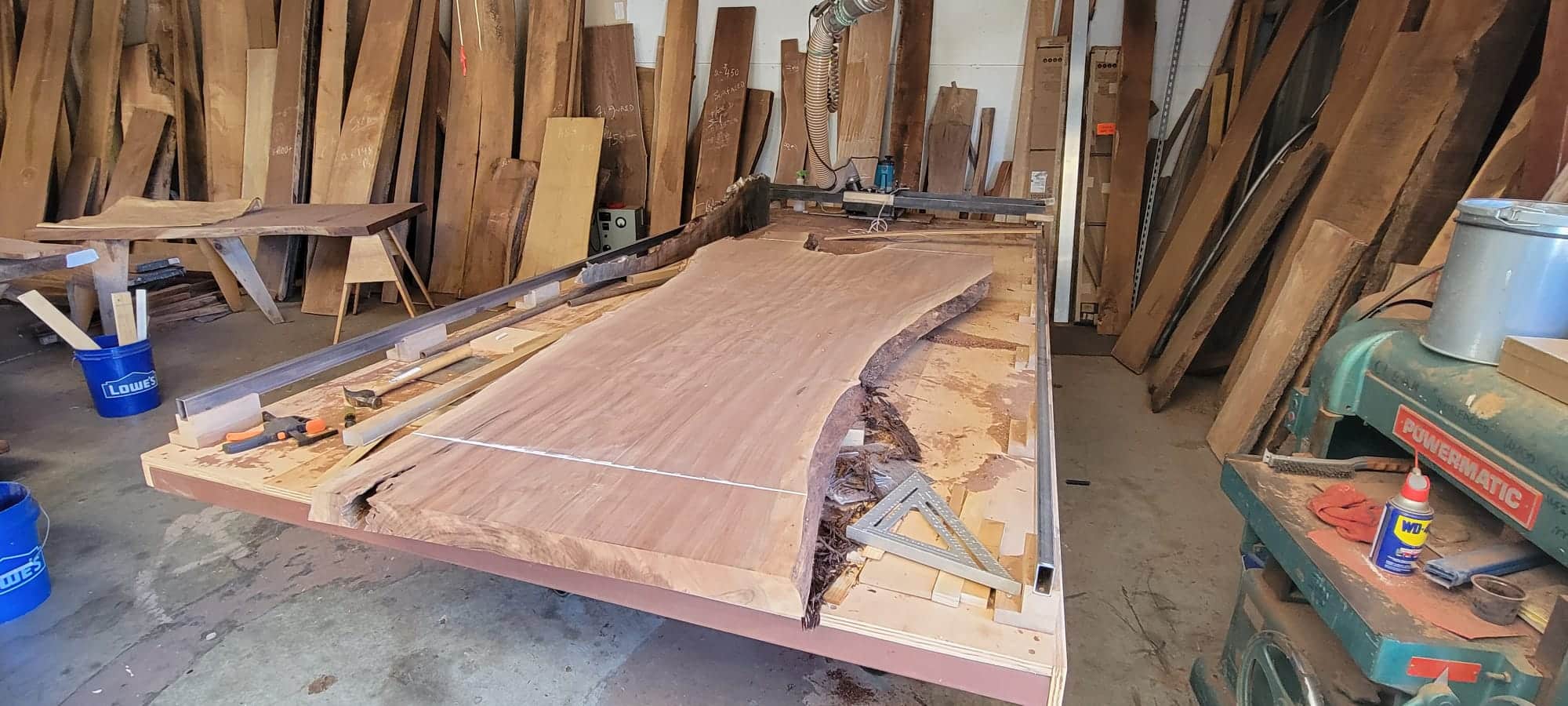 Maxiwoods is one of the leading solid wood furniture manufacturers in the USA We offer both live edge or flat. Live edge, also known as a natural wood table edge, is a style of furniture where craftsmen incorporate the natural edge into the design of the table. Live edge tables are crafted from a salvaged tree. Their rings represent history which makes every table authentic.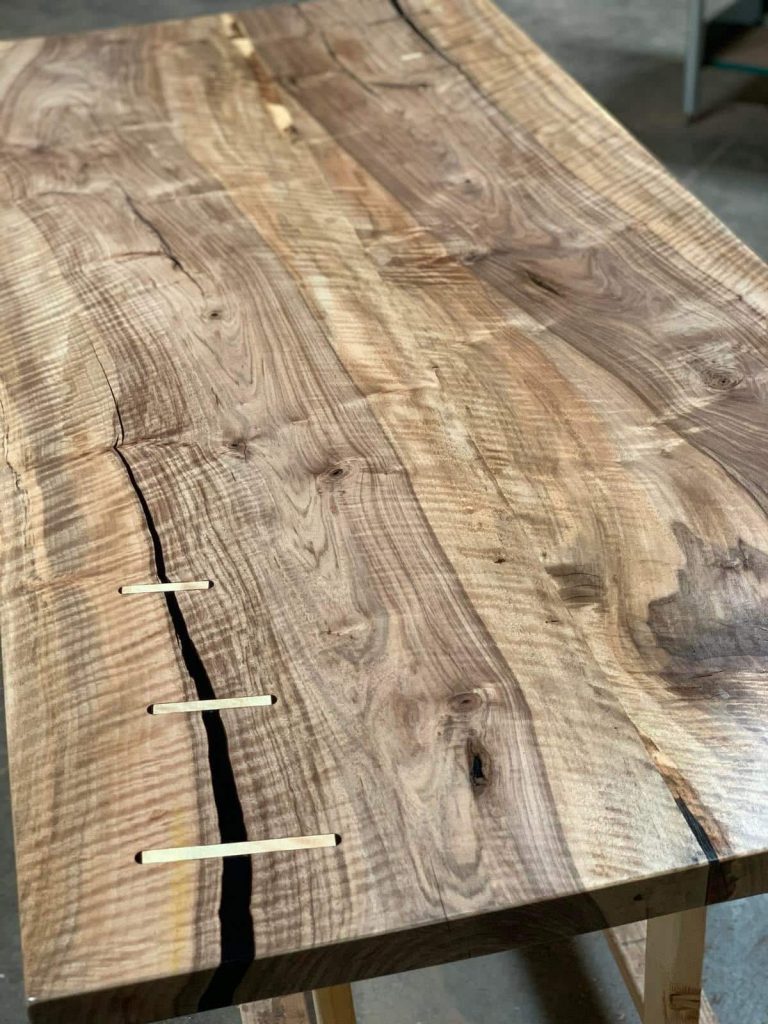 Live edge tables texture sets them apart from regular solid wood tables. They are both stylish and long-lasting. Keep in mind wider and larger slabs come from older and bigger trees, that is the price is higher.
The Solid Wood of Your Choice
The materials used in furniture production are environmentally friendly. We offer black walnut wood, mango, walnut, ash, oak, maples, and more.
Oak is one of the most proliferous kinds of wood. Because it is easy to stain and cut, it makes it cost-effective.
Maple is naturally light in color but darkens under a certain degree of light. The wood grain of maple is exceptionally fine. Maple is a great choice for casual interiors.
Walnut is rare and so the price of walnut is higher than other wood. It has an irregular texture and rich chocolaty color. Walnut pieces create a posh and luxurious vibe in interior design.
For smaller rooms, we suggest rectangular or oval table shapes. For large sitting configurations choose square or round coffee tables. Scale and measurements of the coffee table should be based on the sofa's total length.
Your coffee table should be no more than two-thirds of your sofa's total length. Always remember to leave enough space for legs. The height of your coffee table should be the same as your sofa.
Our Clients Speak
Love that piece of art from MaxiWoods! Unique, eye-catching, and at the same time durable and practical. The whole purchase experience was nice and easy, very friendly! Great customer service. Will definitely suggest buying one of their high-quality products!

Lida lukashova
Excellent company. Needed a new dinning room table for my new home. I wanted something beyond what you can buy in RH or pottery barn. I wanted something with character and would stand the test of time and they did not fail to provide just that. Vlad worked with me from the beginning to end and the table came out great! This is something I hope to have my whole life. Highly recommend!

Robert Johnson