In fine dining, it is not only good food that matters. Settings need to be perfect, too. And nothing helps better to posh up your mealtime than a truly unique and exquisite dining table. Rustic terracotta bowls, minimalist white plates, and bone china with silver cutlery will look equally amazing on a splendid wooden table with matching (or seemingly contrasting) chairs set. So if you are ready to elevate your dining style, read our guide to luxury dining tables made of the best wood and customized to meet your specific requirements.
Dining Tables Are the Pillar of Any Room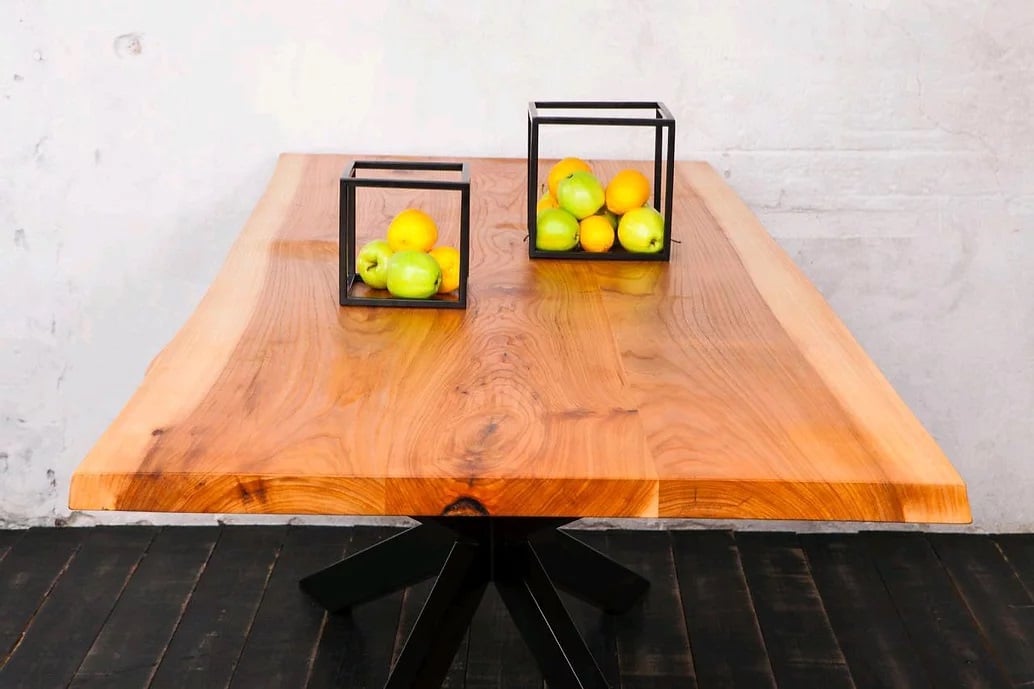 Dining tables do not belong to dedicated dining rooms only. They are necessary for every home since they gather a whole family for a cozy get-together, provide enough space for entertaining guests to dinner, and can also prove themselves useful as a conference or home office spot (if you opt for larger wooden conference table designs). A cool statement table can be placed in a living room, in a dining corner of a loft, or in a kitchen (if it is large enough). Get one sturdy made and upscale-looking furniture piece and you will see how indispensable it is.
Typical Sizes of Good Dining Tables
Currently, the selection of table sizes is immense, from a two-seater to large tables for banquets and pompous receptions. Tables can be solid or expandable, thus providing additional seating space when necessary. Begin by calculating the tablespace you need and the space you can dedicate to your table. Mind that dining tables and chairs put together will take up additional space.
Assign 22 or 24 inches to each potential seater and proceed from that. Leave about 3 feet of space on each side of the table for chairs and moving. Now pick a measuring tape and calculate how much space you have in the room and what table will fit there (concerning required chair space around it).
Best Locations for Great Design and Dining Experience
A truly exquisite and eye-catching table can be placed in the center of the room, closer to a shorter wall of an oblong room, or near the windows to offer some daylight and a view to diners. The secret all designers know is that a shape of a table should resemble the shape of a room. Namely, the rectangular or oval table will sit well in a rectangular room, and the around or square table will look well in a square room.
Dining Tables Explained in Every Detail
Size is not the only point to consider while selecting a table that will complement your room and make it look special. Design, materials, frames are all important factors to take into consideration.
Perfect Sizes for Perfect Interiors
Custom-built dining tables can go in a multitude of sizes, from standard ones to custom ones. Yet the overall gradation of sizes is similar across the industries and design houses. The smallest size should place two-seaters comfortably, and from that on additional 2, 4, and more places are added to the table size. At Maxiwoods, you can have a unique tailored table in one size, or you can pick the necessary size from the size gradation offered for other models. Our smallest table is 90 cm long by 45 cm wide, thus being compact but roomy enough for 4 or even 6 seaters. Our biggest option is full two meters long and so will easily host a dinner party or a conference meeting.
Custom Made Dining Tables Designs
This is the case where simplicity does not mean plain. The rectangular or round tables feature exquisite marquetry of precious wood and gem-colored epoxy that reminds of antique mosaics or Italian frescos. Solid wood tops have live edges, which makes a subtle but essential style statement. Such minimalist (but classic) design is the time-tested solution that makes the table easy to fit into a variety of interiors and brings out the opulence of materials and craftsmanship.
Edges That Are Not Edgy
Live edges or finished edges make a statement as such. Live edges bring out the texture and natural beauty of wood. Finished edges provide 'invisible' but efficient framing for magnificent hand-crafted inlay tabletops. So pick the edges that match your unique vision.
Classic Shape Is What Goes Best With Everything
Our custom-made dining table shapes are classic and geometric, but never boring. Round, oval and rectangular table tops feature premium class wood and freeform epoxy inserts balancing and softening the strict geometry of edges. Remember that the simpler the shape, the longer the table will be appropriate in your interior, even after renovations.
Frames and Their Role In Design
We offer simple rectangular or complex trestle-like frames of wood and steel that give tables a modern feel without overpowering the luxurious tops. Iron frames and legs are shiny or matte, so you can select the kind that fits your room best. All frames are safe, crafted with precision, and able to carry the weight or tops securely.
Wood: Touch of Nature
The classic solution for a table that does not require a second thought is wood. Solid wood dining tables never go out of fashion and give an aristocratic note to any room style. If you look for a long-term investment that will be a pleasure to look and eat at, opt for wood, solid, or carefully combined with other materials. Our wood is sustainable, ethically sourced, and worked into a table with a love for the art of furniture making.
Truly Exquisite Dining Tables from Maxiwoods
What is luxury or exclusivity? As an experienced dining table manufacturer, we can attest that it is the absolute quality of materials, precision of manufacturing, durability, and distinctive style. At Maxiwoods, we combine all these essential features to create state-of-art tables that subvert your ideas of what is possible and at the same time remain fully functional and convenient furniture pieces.
Are There Different Designs and Frames I Can Choose From?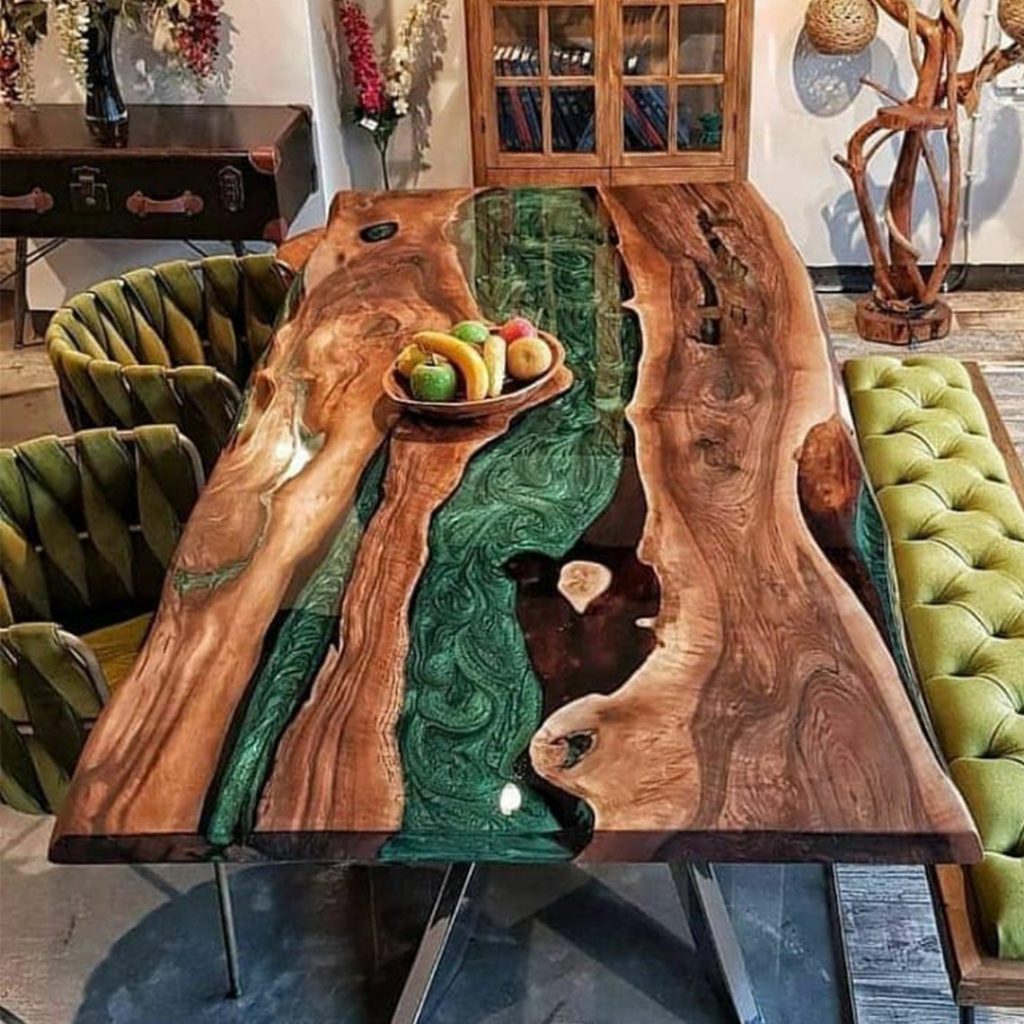 As you can guess, we create tables in timeless shapes but premium and one-of the kind materials and top designs. So in our collection, you will find dazzlingly beautiful rectangular, square, round, and oval tables to meet your needs and taste.
The frames we offer are sturdy but elegant enough not to overpower the opulent tops. Mind that complex and heavy frames take up space under the table, so a large tabletop capacity can be crippled by a lack of leg space beneath. Usually, slender legs or frame attached at the corners of the table is a perfect solution leaving plenty of space under the table for legs.
How to Choose Wood for Custom Wooden Dining Tables?
Wood is timeless and practical, and this is why natural wood dining tables are more expensive than the rest. Wood can be painted or carved, polished or distressed to achieve the desired visual effect. Yet the most expensive wood kinds do not need any dressing up, they are beautiful just as they are.
Teak, oak, mahogany, walnut, maple, ash, olive wood are all precious because of their durability and beautiful natural patterns. Get them in invisible varnish or delicately tinted, and you won't need any additional decorations.
What if I Need a Specific Color of the Tabletop to Match My Room?
Modern paints provide a safe and lasting coating that preserves woods for decades. Besides, you can pick any color and have your dream table painted as you prefer. In our collection, you can find tables that go in one distinct color for specific design purposes or you can have a table painted in several shades to match your interior.
Making It to the Finish: Do I Need Oil or Varnish for My Table
Varnish and oil treatment helps to protect the wood while preserving its naturalness. The treated wood may take on some deep golden or reddish tint, or it may fully retain its initial shade and pattern. Such treatment style is perfect if you have other custom dining furniture made of wood and want to support this trend with your table.
Great Delivery: the Best Service for the Best Dining Tables in California
Our tables deserve only the best handling, so we include white gloves delivery in our services. It means that the table will be packed and delivered with special attention and assembled in your house. You avoid the usual hassle and only enjoy the pleasure of choosing and seeing the table standing where you plan it to stand. We perform all the in-between actions.
Is There One Size that Fits Any Solution for Dining Room Design?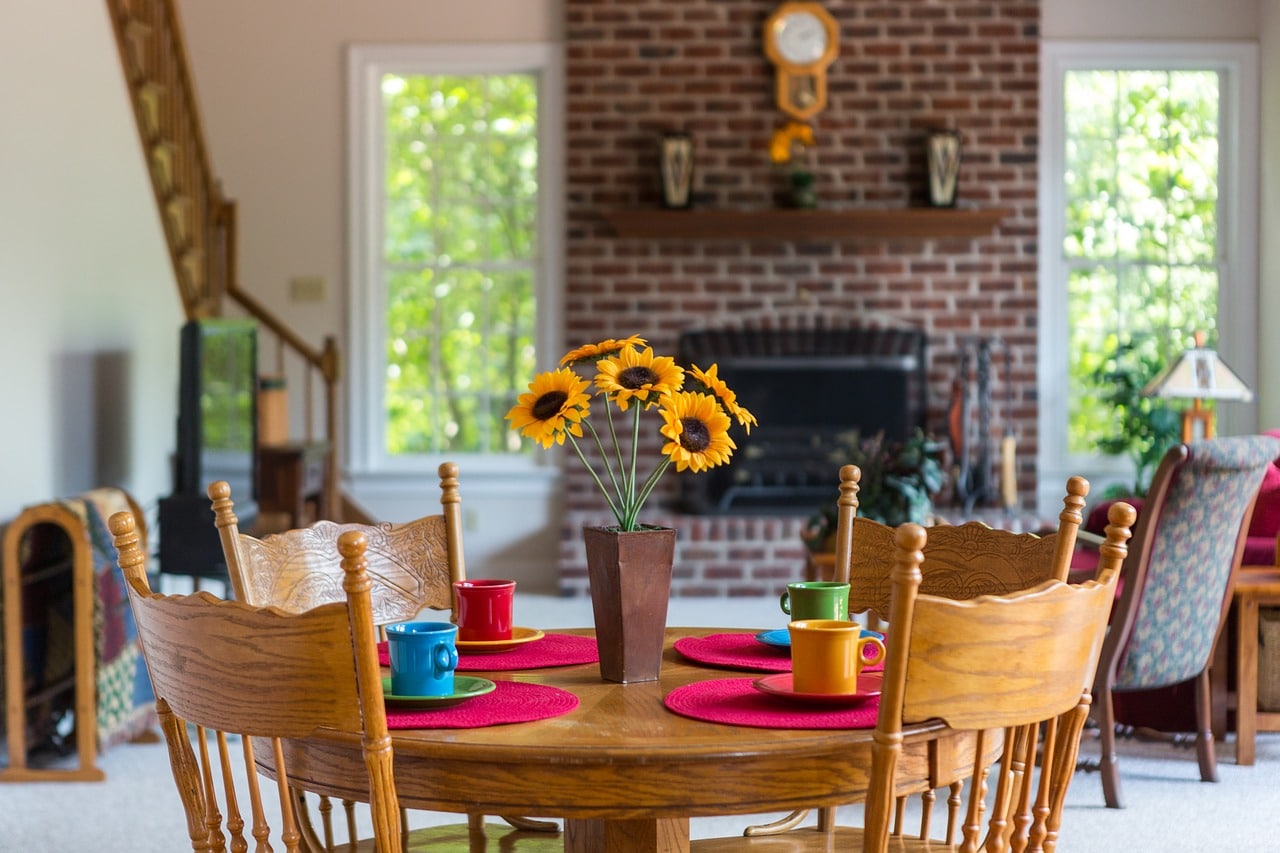 The key advice on selecting a proper table is the following: buy a sturdy, durable, practical piece with a minimum of hot trends features. A table of minimalist or classic design can match well many an interior, from loft to rustic, and it is usually the most functional and convenient in use. Change tableware and linens, add or remove seasonal décor and give your table an effortless makeover.
Additional practical tip: buy dining tables with benches or matching chairs, or pick deliciously contrasting (but subtly matching) seats design, and you have the whole statement furniture set elevating your room immediately.
Consult your measurements, browse our collection and pick a table with some distinct feature that does not impact functionality, like a classic rectangular tabletop made of wood with the addition of richly-colored epoxy inserts.
Why The Maxiwoods Dining Table Is the Best Addition to Your Interior
Each of our dining tables for sale is inspired by heirloom furniture of masons and castles but also by the latest trends in materials and lifestyle. The careful and balanced combination of seemingly opposing styles creates tables that are really cozy to sit at yet avant-garde enough to become the focal point of the place. Maxiwoods guarantees you the quality of materials and assembling and the joy of having a beautiful furniture piece that will not go out of fashion next year.
We make tables that we would love to put meals on ourselves. You deserve to have this amazingly beautiful and hand-crafted piece in your dining room, too.
Best Place to Buy Dining Table in the Bay Area: Maxiwoods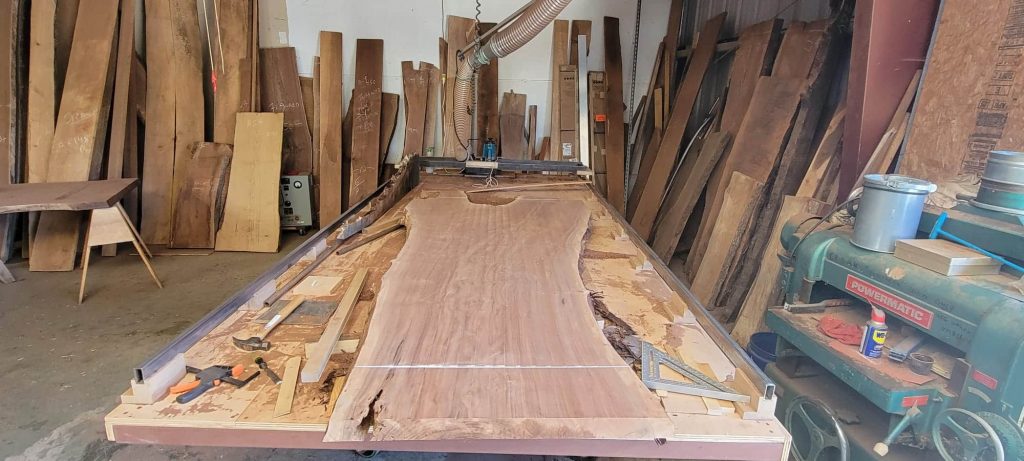 Maxiwoods – is a team of handcraft furniture makers that make amazing custom tables in the Bay Area, California, USA.
Artisan Accent Tables Handcrafted in the Bay Area. Elegance, comfort, versatility, and quality are signature Maxiwoods values. Timeless Beauty, Sleek Design. Discover Maxiwoods Craftsmanship. Superior Materials. Design Consistency. Unrivaled Comfort. Timeless Elegance. Timeless Products.
Styles
Contemporary, Timeless, Natural. Contemporary, Timeless, Nouveau Chic, Urban.
Advantages that Maxiwoods Brings to the Table
Maxiwoods is the most liked brand In California, the USA for home usage, office, and commercial usages like restaurants, hospitals, shops, public places, and more.

An exclusive, exquisite interpretation of wood: the excellence of a unique design and a sophisticated, attractive, and natural style.

Ten years of quality experienced and individualized research and development.

Designed in harmony with the natural landscape.

Colors inspired by the world of nature.

Professional development and production of various wood transparent resins.

High-quality raw materials, large quantity discount.

Because we are the manufacturer, we offer unparalleled material and size customization options on almost any piece to any of your requirements.

The leading manufacturer and supplier of superior quality designer furniture in California, USA.
We are driven by affordable luxury as a philosophy, by choosing the right materials and solutions for our tables. Because life's too short for ordinary things. Discover an undiscovered world of luxury. At Maxiwoods we create products from pure hardwood, sourced from sustainably managed forests, promoting ecologically responsible design.
Artisan Wood Tables in California, USA – Style & Service Delivered around Bay Area
All furniture items are customizable to a wide variety of styles, hardwood options, finishes, and sizes. MaxiWoods Artisan Accent Furniture. Styles: Contemporary, Timeless.
Check out our wood accent table selection for the very best in unique or custom, handmade pieces in California, USA!
Buy Custom Built Tables from MaxiWoods. Order and fun to co-design your own "Wooden Dream Table" with a friendly and professional artisan! Everything is made by hand here at my workshop in Daly City, California. Family-owned business.
Order and fun to co-design your own "Dream Table" with a friendly and professional artisan! 
Feel free to come to our showroom to look at it. Everything is handmade in Daly City, Family owned business.
Submit your design idea & get a price quote! Available for pickup at my workshop in Daly City or can be delivered around the Bay Area.
Please call or chat us to check availability: (415) 240–4607
Support local craft and get a great deal on custom-crafted furniture!
Check out our Quality Dining Room Tables