There are several practical concerns of your home dining space planning from choosing the wood type, fabric, and materials to functional aspects and craftsmanship. Yes, selecting dining room furniture requires some thought and effort, but our helpful shopping guide will simplify all the above processes.
Decide what you want from your dining room before making any major decisions; this will influence everything from the design to the layout, as well as what furniture you'll include and how you'll arrange your lighting system. Making the best design decisions will be much easier if you write down your answers to the following questions and then put some thought into it.
Is it going to be primarily a formal or casual dining area?
What atmosphere do you want to create?
How frequently will the dining space be used?
How many people will you be catering for on average?
What is the age of your guests?
After you've answered these questions, you'll notice that a lot of your design options become a bit clearer. Someone who wants to use their dining room just for three-course dinners on exceptional occasions, for example, may opt for a more formal appearance with a sideboard, china display cabinet, and cushioned carver chairs. A more casual style works well with sturdy materials for a dining room that will be used every day for a relaxed breakfast, lunch, and dinner (and the occasional after-evening homework session).
First, decide if you want your dining room to be formal or casual:
Formal Dining Room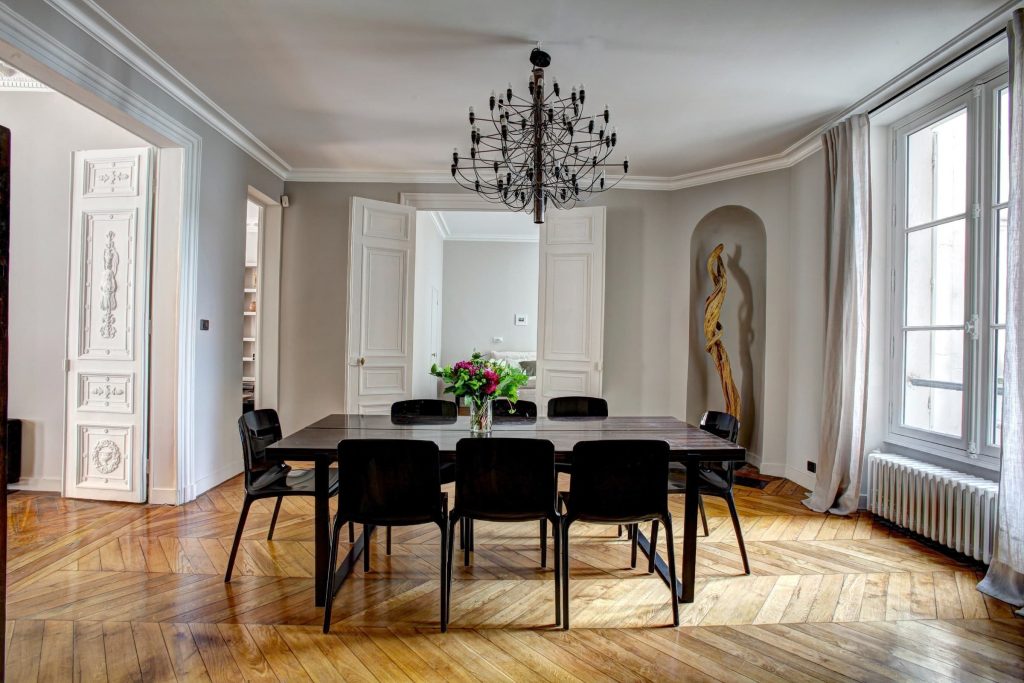 A formal dining room is where exceptional dinners, celebratory and fine dining take place. It will almost certainly include a matching table and chair set (typically made of high-end materials like gorgeous hardwoods and exquisite upholstery), clean, pressed linens, and full dinner service with serving dishes and cutlery. This sort of dining room will include items like a buffet or sideboard, a china cabinet, and a dramatic centerpiece that will aid in the dining and entertaining process.
Casual Dining Room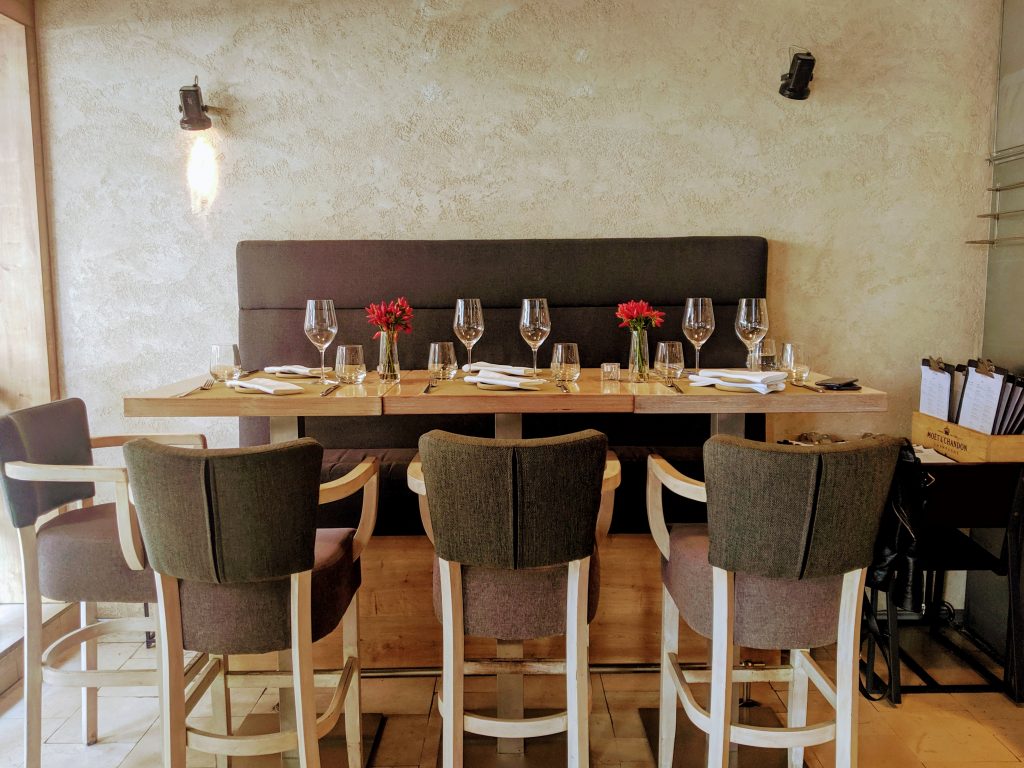 A more relaxed and less traditional atmosphere marks a casual dining area. In practice, it might be a dedicated area in an open plan kitchen or conservatory rather than a separate room. For everyday use, informal eating spaces are very useful. Furniture doesn't have to follow the rules – banquettes and benches work particularly well – and there's less of a requirement for storage space because of the proximity to the stove. Tableware essentials are sometimes used in place of complete dinner service.
There are, however, ways for creating a flexible space that may be used for both casual and formal gatherings. It all boils down to how you dress the table in a dining room. For formal events, go all out, but for regular eating, keep it simple. For really formal events, set a table with gorgeous tablecloths and linen napkins, flowers, candles, silver, pretty dinnerware, crystal, and place cards. Choose a simpler dinner/lunch service and possibly some fun, colored glasses for less formal events. Replace the silver with something more seasonal [and] colorful placemats.
Choosing a Dining Table
Dining tables, like any furniture piece, come in a range of materials, which are typically influenced by silhouette and design. Here are some of the most common materials for luxury dining room furniture.
Solid Wood Dining Table- Your Best Choice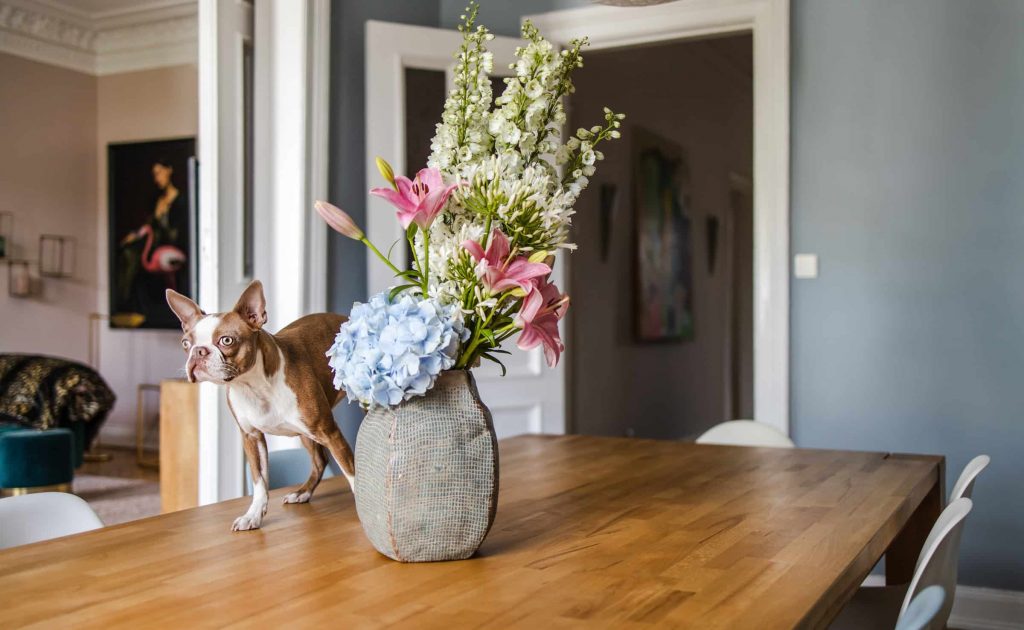 Solid wood is still the best material choice since it is durable, flexible, and has a wide range of aesthetics, textures, and color options. Depending on the grain and finish, it may be as plain or as ornate as you like. Carving, inlay, and marquetry options all add interest.
Craftsmanship
Not only should your materials be of the highest quality, but so should your craftsmanship. Precision wood matching and instances of exquisite craftsmanship such as corner blocks, dovetails, and mortise and tenon joints are all things to look for. It nearly goes without saying that finishes should be immaculate (unless a faded or aged finish is selected), and that joins should be smooth.
Measuring
Understanding the proper dining table dimensions for your space may make a significant impact on both your and your guests' eating experiences. If a table is too tiny, visitors will feel crowded and eating will suffer; if it is too large, the discussion will be difficult and a sense of intimacy will be lost.
To obtain a sense of the size of your dining table's footprint, create a 2D mockup out of paper and place it on the floor where the table will be placed. Allow 60 centimeters per diner as a general guideline (70 centimeters for carver chairs).
How to Set Your Dining Room Table in California
You've just completed the task. You've just finished shopping for your first solid wood dining room table. You adore its wonderful shape, size, height, and texture. It offers long-lasting durability, and the fact that it is an environmentally friendly piece of furniture is an additional plus for your dream home in the San Francisco Bay Area.
You feel compelled to rejoice since your new piece of furniture is so beautiful. You decide that throwing a dinner party is the best way to get your dining room table to feel comfortable. The setting, however, must be ideal in order to display it in its finest light.
Your dining room is one of the most important social rooms in your home. It is a space to enjoy delicious cuisine and talks with pleasant people, but it should also be a place where you love spending your time. And, as any good host or hostess knows, fine dining style is about a lot more than the food or who's coming over for dinner.
Let's learn how to set your dining room table so that your California home party is everything you want it to be.
It's All About Reason
Setting a dining room table may appear to be a difficult process, but with a methodical approach, everything will fall into place.
Guests should be able to get what they need when they need it by arranging utensils and plates in such a way that they can get what they need when they need it. As a result, the plates and utensils required for the previous meals should be kept nearby.
Guests will have access to the plates and utensils they need for later in the dinner when dishes and silverware are used and removed. Salad plates, soup bowls, and suitable utensils, for example, should be put closest to the guests as they begin the meal, while entrée and dessert dishes and utensils should be positioned farther away.
Let's see how this works in a less formal setting.
How to Set Your Table for Casual Dining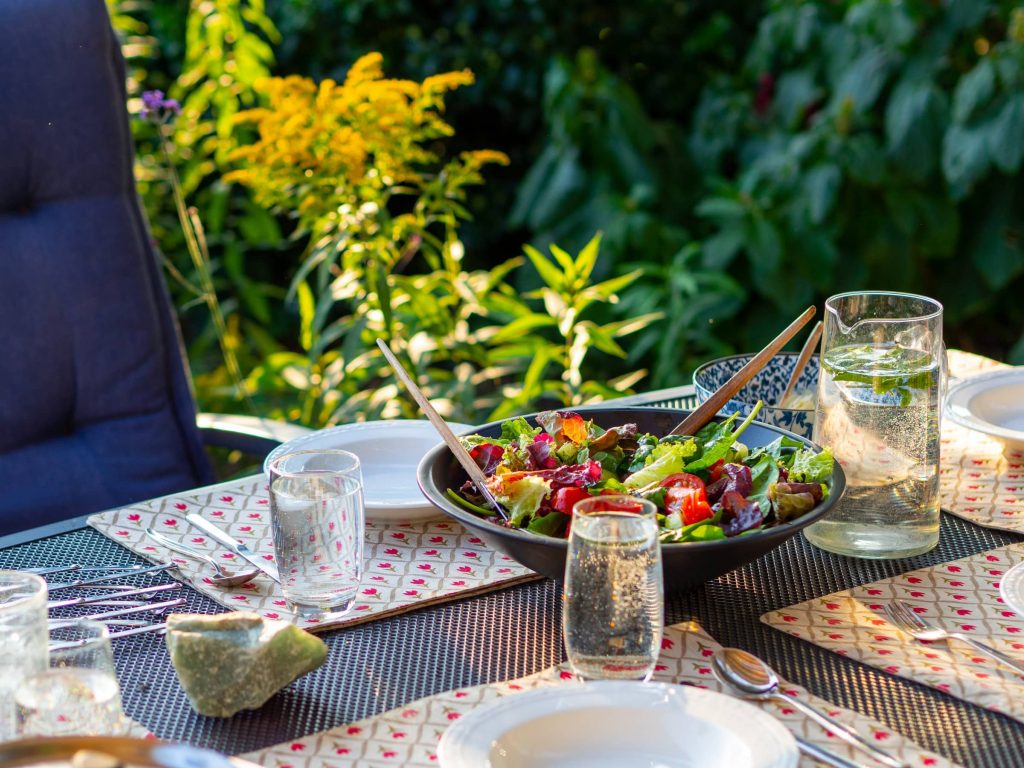 One of life's greatest pleasures is throwing a dinner party for family and friends. It's an excuse to take it easy and enjoy nice company while eating something wonderful. However, as any seasoned host or hostess knows, putting food on the table does not equal a dinner party.
A really great meal, whether it's a lavish late-morning breakfast or a casual Sunday lunch, requires skills and a beautiful and inviting table setting. The numerous table-setting standards that exist for different meals continue to perplex even the most seasoned of dinner party hosts.
Follow the simple steps in this handy guide to learn how to arrange a table for dinner, lunch, and breakfast, as well as basic table settings for less formal occasions.
Place a placemat on the table.
In the center of the placemat, place the meal dish.
On top of the dinner dish, place the salad plate.
Place the soup bowl on top of the salad dish if you're starting the meal with soup.
To the left of the dish, place a napkin.
On the napkin, place a fork.
A knife should be placed directly to the right of the plate, and a spoon should be placed directly to the right of the knife.
Place a glass of water right in front of the knife.
Place a second glass on top of the water glass. This will be for wine or a different beverage.
Table Setting Essentials
The issue of how to set a table is not one to be taken lightly. Depending on the sort of meal, there are many options, ranging from an informal dinner party to hosting a lunch for a few friends. This is when having a rudimentary understanding of table etiquette comes in help. It lays the groundwork for arranging the table before a meal, regardless of the formality of the occasion.
Instructions For Setting Up a Dining Table
The tablecloth of even the most informal family gatherings includes a few key parts. A casual table arrangement should always include a dinner plate with cutlery to one side and some sort of glasses to the right, unless you've picked a cuisine that's better served in a bowl in front of the television. The amount you build up from here is totally up to you, depending on how much work you want to put in and whether you want a casual dinner party tablescape or something much more formal.
Dining Table Setting Etiquette
Here is your best and helpful cheat sheet on how to set a table? Here are seven useful tips to keep in mind for any regular dinner setting when you want to show you know what you're doing:
A perfect dining set, cutlery set, and glassware make up a table setting.
Make sure the bottom rim of your plate is always aligned with the base of any vertical silverware.
Always place knives on your table with the blade pointing inward.
The spacing of each element of your table arrangement is determined by the distance between your knife and your plate.
Your dinner knife may also be used to help you place your glasses. In your table arrangement, your water glass should be exactly above it, with any additional glasses to its right.
Glasses should always be arranged from back to front, from largest to smallest. Although glassware sets vary, this is the baseline for most table setting designs.
A side or bread plate is generally 15 to 18 centimeters in diameter, a salad or dessert plate is 22 to 25 centimeters in diameter, a dinner plate is 27 to 28 centimeters in diameter, and a charger or service plate is 31 to 33 centimeters in diameter.