The collaborative and social design of the meeting space is of great importance, after COVID-19 which had ultimately changed habits, distances, and the use of urban public places. The public space and social life changes are immense, and the Maxiwoods team is rethinking the design and use of meeting spaces as people return downtown after COVID-19.
Meet with Confidence: Covid-safe Meeting Space in 2021
In a world affected by COVID-19, your safety, comfort, and enjoyment is the top priority for Maxiwoods. Now, when corporate meetings events are resuming, creating a Covid-safe meeting space is a challenge for many companies, aiming to provide a setup for social distancing while making the space inviting and collaborative.
Our contemporary office furniture products have exquisite designs and a high degree of style, we only offer conference tables made to stand up to the daily demands of the modern meeting area. We create state-of-the-art urniture for open door space enabling your and your guests to enjoy a breath of fresh air in California during your meeting – or to take the entire formal event alfresco!
Conference Room Essentials
The conference room in your office or a co-working space in a business center is a very central space being the place where important discussions and decisions take place. Clients and employees are drawn to beautiful, well-designed spaces that are welcoming and hospitable
A well-designed and set up conference room encourages networking, learning, active participation, communication, and comfort of all the participants of a business event. One of the key purposes of a conference room is increasing the productivity and creativity of teams.
A Multi-purpose Conference Table
When your client or new colleague, comes into a meeting or a conference room, they will most likely spend a couple of hours at the conference table, being the place where they will wait, interact, put their laptops and papers, coffee cups, sign papers, etc. Your conference room table is a place where you establish and maintain effective relationships with customers and colleagues, provide plenty of training opportunities, etc.
The main purpose of the conference table is to create people-centric, flexible, and warm collaborative spaces where it is pleasant to collaborate easily both in-person and online. It is also aimed to promote an air of effective listening and thoughts to share.
Investing in Well-being and Comfort
The need to run effective meetings offline and online meetings in the post-pandemic time is more intense than ever. With so many conference tables available on the market, ranging massively in terms of materials, finishes, price, quality, and style, it can be difficult to find what is the right table just for your business. A proper conference table will help you run online and offline gatherings that are fun. Maxiwoods lets you create a meeting space that functions and feels just the way you want it to. You know your guests and participants best!
From scheduled meetings in designated spaces to spontaneous conversations and networking between the working sessions, a productive meeting or conference space must support all the ways we work together and interact.
Do you need to foster project-driven teams? Looking for something casual and comfortable? We all want to spend time where we feel good, enjoy natural light and fresh air, and can control our own comfort. Investing in well-being makes people more engaged at work and more productive.
Meeting Space Size and Formality
Small Meeting Room: Meeting rooms that seat 6 or fewer people.
Large Meeting Room: Meeting rooms that seat 7 or more people.
Boardroom: Meeting rooms that are more formal and are reserved for executives.
Conference table shapes. Shape matters
Meeting room tables are available in a variety of different shapes, sizes, and materials. There are a lot of shapes and sizes of to choose from, so let's explore the steps to choosing the right dining table Let's find the one that not only fits your space and budget but also your company culture.
Rectangular conference table
Being the biggest of sizes, rectangular conference tables are the best fit for large and spacious meeting rooms where people use special equipment, for example, large screens or run demonstrations. Consider purchasing a conference table with many extendable options, which allows you to seat more people.
Round conference table
Round conference tables provide versatility, they are simple and functional, helping you meet any meeting room requirements. They create unique visual appeal, while their rounded corners create the illusion that they occupy less space. Your best bet is to use them when you need to seat several people at once in a smaller size room.
Oval conference table
The curves of an oval conference table help create an atmosphere of openness and flexibility. Conference tables can be found in large oval shapes – they are is perfect for large boardroom spaces needing six or more seats.
Choosing the right size for a conference table
We produce custom-made wood conference tables of any size and shape to suit your needs. How many people can comfortably fit at your conference table depends on its shape. Below is a reference to help you decide what size conference table you need, once you have ve settled on the shape. These guidelines also include new post-pandemic social distancing seating capacities, helping you decide on your conference table dimensions and size.
| | | | | | |
| --- | --- | --- | --- | --- | --- |
| People | Rectangle | Oval | Suare | Round | U-shape |
| 2 | 36 x 60 | 42 x 60 | 42 x 42 | 48 | 36 x 128 |
| 3-4 | 36 x 72 | 42 x 72 | 48 x 60 | 72 | 36 x 192 |
| 6 | 48 x 96 | 54 x 96 | 64 x 64 | 96 | 36 x 256 |
| 7-8 | 48 x 144 | 54 x 144 | 64 x 96 | 120 | 36 x 320 |
| 9-10 | 48 x 168 | 54 x 168 | 96 x 96 | 144 | 36 x 384 |
| 11-12 | 48 x 192 | 54 x 192 | 96 x 128 | 168 | 36 x 448 |
| 13-14 | 54 x 216 | 72 x 216 | 128 x 128 | 192 | 36 x 512 |
| 15-16 | 54 x 240 | 72 x 240 | 128 x 160 | 216 | 36 x 576 |
Work Surfaces:
Most work requires a table of course, though some alternatives might include smaller laptop tables or a lectern for presentation-heavy meeting rooms.
Collaborative Equipment:
Videoconferencing, room displays, and writing surfaces such as whiteboard or chalkboards. Meeting room scheduling systems can also be important depending on the size of your organization.
7 Conference Room Table Setup Styles
A well-designed and well-equipped conference room can make a big difference when having a meeting with your clients or colleagues. Here are a few design ideas to inspire the conference room setup.
Boardroom Style
U-Shape Style
Circular or Banquet Style
Hollow Square Style
Theater Style
Classroom Style
Lounge Style
How can the Conference Table Impact a Meeting?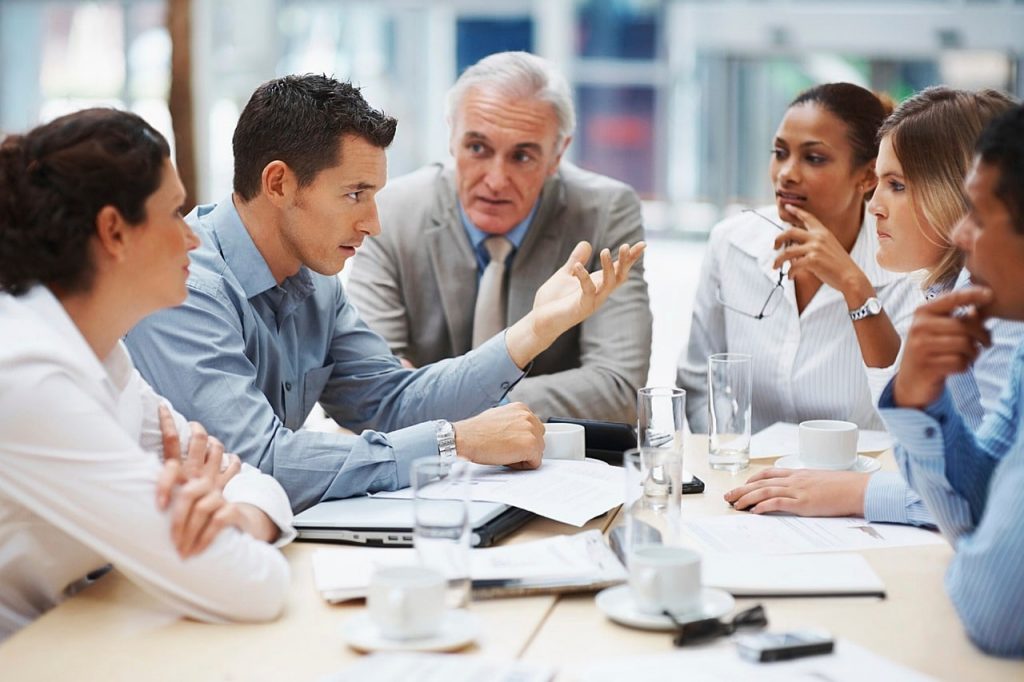 It improves your workplace productivity when you discuss important matters and ideas with your clients and teammates.
It is suitable for online and offline presentations, training sessions, video conferencing, and more interactive meet-ups.
It helps focus attention.
It improves collaboration.
It accommodates up to 25 people.
It conveys a sense of equality (especially the round-shaped ones)
It encourages active brainstorming.
It encourages networking and participant interaction on a personal level.
It can work well for presentations, seminars, product presentations, lectures, training and teaching sessions, etc.
It promotes comfort over productivity.
It provides a high level of comfort for the attendees.
It helps the speaker not shout to make conversation.
Its shape of seating arrangements can influence persuasion.
Its shape can enhance (or impede, if ill-shaped) creativity in innovation-driven companies.
It can deliver a sense of hierarchy through the power seating arrangements (however, it is no longer a viable paradigm in an innovation-driven world).
It helps spread ideas democratically.
Out-of-the-box Ideas to Find Meeting Space
Consider how modern office spaces are changing in the post-pandemic time.
Offer access to courtyards and green space
Offer more meeting space by using dining space
Remodel and use your rooftop
Add tables and chairs to your pool or garden area
Create an outdoor kickback lounge or a pop-up.
Partner with a Local Conference Furniture Manufacture
But the point here is, supporting local small businesses is a definite plus for companies who care about doing good in the world. And the owners will appreciate the extra customers too!
No two businesses will have the same criteria for what constitutes an ideal conference table. Some things are universally beneficial — high-quality design, natural materials and finishes, the easy purchasing experience, and affordable pricing. We can custom manufacture many different color and finish combinations and layout possibilities. Our modern conference table collection will help you reinvent the meeting space and spark the imagination of your employees and clients.
Now you are ready to put new ideas for setting up meeting space into action!
Contemporary Conference Room Tables from Maxiwoods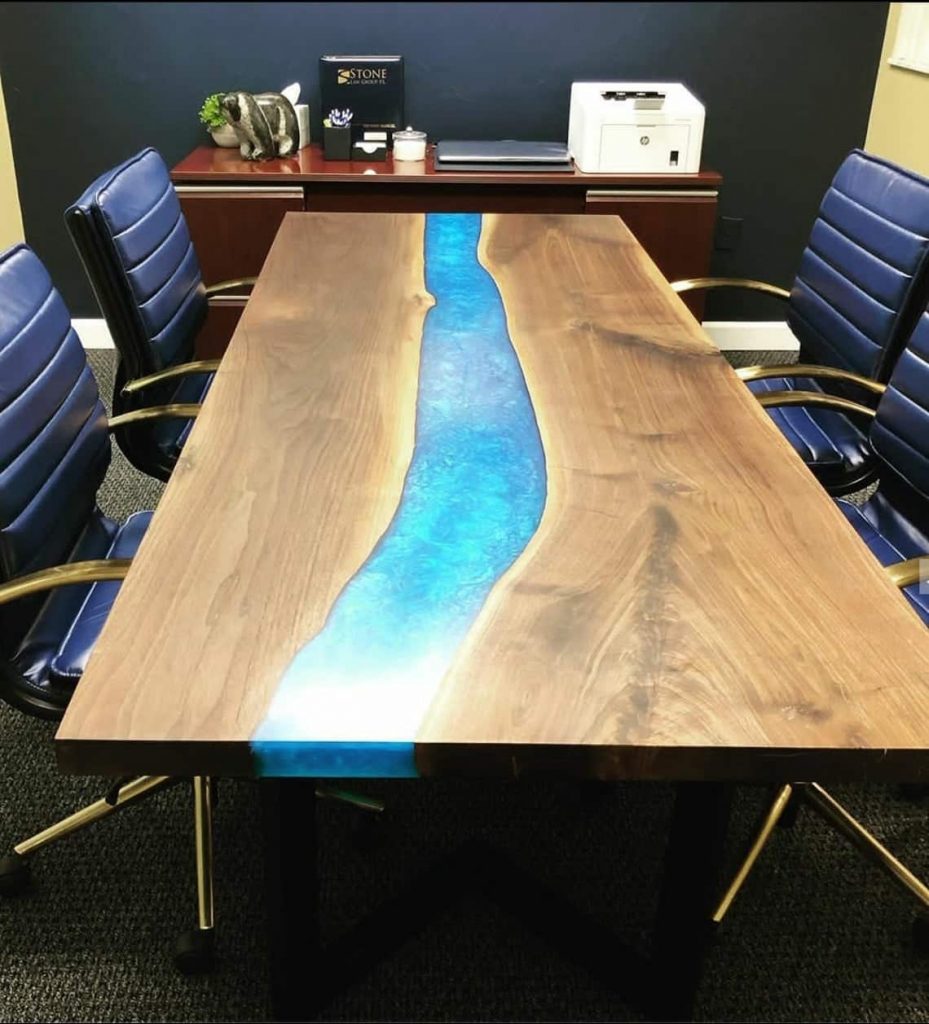 Maxiwoods is the place where cutting-edge technology meets artisan hand-craft. We stand for good design. Our modern hand-made conference tables embody the latest in technology integration coupled with cutting-edge designs and shapes. Our stylish, high-quality boardroom tables feature materials the latest textured woodgrains.
Choose from our large selection of wood conference tables, white conference tables, and standing conference tables ranging in styles from cool and futuristic to minimalist and contemporary to rustic with reclaimed wood to high end and luxury to organic and natural with live wood edges.
We have hand-made artisan conference tables to outfit today's meeting space rooms with any size, shape, and design concept.
We are driven by affordable luxury as a philosophy, by choosing the right materials and solutions for our tables. Because life's too short for ordinary things. Discover an undiscovered world of luxury. At Maxiwoods we create products from pure hardwood, sourced from sustainably managed forests, promoting ecologically responsible design.
Advantages that Maxiwoods Brings to the Table
Maxiwoods is the most liked brand In California, the USA for home usage, office, and commercial usages like restaurants, hospitals, shops, public places, and more.
An exclusive, exquisite interpretation of wood: the excellence of a unique design and a sophisticated, attractive, and natural style.
Ten years of quality experienced and individualized research and development.
Designed in harmony with the natural landscape.
Colors inspired by the world of nature.
Professional development and production of various wood transparent resins.
High-quality raw materials, large quantity discount.
Because we are the manufacturer, we offer unparalleled material and size customization options on almost any piece to any of your requirements.
The leading manufacturer and supplier of superior quality designer furniture in California, USA.
We ensure seamless delivery of your custom-made pieces.
Making a Great First Impression with the Conference Table
When choosing a conference table, consider giving a good first impression to people. The best way to create a good impression is by creating an authentic atmosphere in your meeting space.
Doing this will make your guests feel open and confident, help you to build trust, and earn the respect and integrity from the people you meet, whether a client, a partner, investor, or new employee, comes into your meeting area, they will spend an hour or two at the conference table.
Here they will speak up, wait, interact, sign papers, put their laptops, and establish an overall first impression of your business and collaboration prospectives. Take your chance to ensure a good impression by choosing the aesthetically perfect, and functional conference table crafted by Maxiwoods.
There are a lot of shapes, materials, finishes, and sizes to choose from. Check out our artisan hand-crafted selection of conference tables or the very best in unique or custom, handmade pieces from our workshop in Daly City, California.